My first car was a 1933 Austin Seven, which I bought from my brother for the princely sum of £15 while I was still at school. This was around 1960, when petrol was about 5 shillings and 6 pence a gallon (about 27p), although I could only afford to buy half a gallon at a time. I used to round up some of my school mates and give them a lift to school, and collect 6d each off them for the ride!
The eagle-eyed will notice some dents in the bodywork above the driver's door, and the front wing slightly adrift. I had taken the car out for a test run after making some adjustments to correct a slight imbalance in the braking system. I applied the brakes quite heavily, the car turned sharp left into a parked car, and fell over on its side. I remember my chief concern was the financial consequences of the petrol running out of the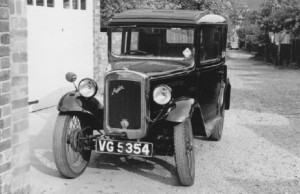 fuel tank! Mechanically, it only suffered a buckled wheel and a sheared king pin, both of which were quite easy to put right. Bodywork was more challenging and was never my strong point, and somehow it was never quite the same after the incident.
Soon after I started work at the BBC I progressed to a Morris Eight Series-E, which seemed to me modern and luxurious at the time (it was a late 1940's model), but in retrospect it was rather dull.
EARLY SPORTS CARS
My first real car was a 1959 Austin-Healey 'frogeye' Sprite, which I bought from a colleague, Jack Badley, who had fitted it with a Shorrock supercharger. By the standards of the time, it was quite exciting.
A couple of years later though, I had a mishap whilst on holiday in Barcelona. It involved a collision with a friend, and the frogeye bonnet was too damaged to repair economically, so I had to sell the blower to pay for repairs. I replaced it with a fibreglass 'Sebring'-style bonnet, which were very popular at the time. Sadly though, without the blower, and having lost its frogeye look, much of the appeal had gone out of it, so I sold the frogeye and bought a much-modified Sebring Sprite.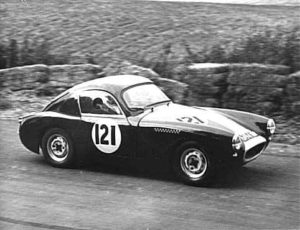 I also bought this car from Jack, pictured here racing the car in a BRSCC meeting at Cadwell Park in September 1964 (before it was mine).
This car was good fun, very basic inside, with a special one-piece aluminium roof and windscreen frame. There were lots of holes in the body panels for lightness, and the seats were just crudely shaped aluminium tubs with a block of foam to sit on. It was immensely noisy, and almost impossible to drive in traffic. It would oil up spark plugs every couple of miles, so I kept a stock in the car, and after each journey visited the local garage to have them sandblasted clean!
Here's a short clip (from 8mm film) of the car at Jack's father's garage in Spilsby, just before I bought it.
By then, motor sport had begun to interest me. Attending race meetings in those days was pretty cheap: four people and a car could get into a Grand Prix at Silverstone or Brands Hatch for about six quid! From my home in North London it was easy to get to other race meetings at Snetterton, Crystal Palace, Goodwood and Thruxton. After tasting Le Mans for the first time in 1964(?) Les Vingt-Quatre Heures became an annual pilgrimage for the following ten years.
I took the Sebring to Brands Hatch to get the feel of driving on a track, and I thought about racing myself, but I hardly had enough money to keep the car going, let alone develop it. I heard about sprinting and hillclimbing, but never got to see any speed events and they didn't seem exciting enough. I had bought a Ford Anglia as a more practical road car, and eventually the time came to sell the Sebring. Then a job transfer to Bristol left me with no garage, and I had to settle for more sedate transport – for the next 30 years or so.