Wee have also Sound-Houses, wher wee practise and demonstrate all Sounds, and their Generation. Wee have Harmonies which you have not, of Quarter–Sounds, and lesser Slides of Sounds. Diverse Instruments of Musick likewise to you unknowne, some sweeter then any you have; Together with Bells and Rings that are dainty and sweet. Wee represent Small Sounds as Great and Deepe; Likewise Great Sounds, Extenuate and Sharpe; Wee make diverse Tremblings and Warblings of Sounds, which in their Originall are Entire. Wee represent and imitate all Articulate Sounds and Letters, and the Voices and Notes of Beasts and Birds. Wee have certaine Helps, which sett to the Eare doe further the Hearing greatly. Wee have also diverse Strange and Artificiall Eccho's, Reflecting the Voice many times, and as it were Tossing it; And some that give back the Voice Lowder then it came, some Shriller, and some Deeper; Yea some rendring the Voice, Differing in the Letters or Articulate Sound, from that they receyve. Wee have also meanes to convey Sounds in Trunks and Pipes, in strange Lines, and Distances.
From The New Atlantis by Francis Bacon 1624
It's hard to believe that this piece was written nearly four hundred years ago, and somehow seems to forecast everything that goes on today in a Sound Recording Studio or a Broadcasting Centre.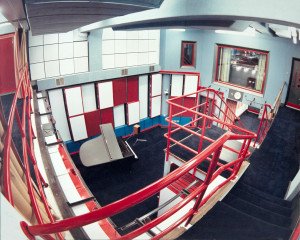 By way of an example, this is the interior of the BBC Bristol Christchurch Drama Studio, refurbished in 1985 to a design by the BBC's own Architectural Department, at a total cost of around £1m. The building work cost about a third, the technical installation – microphones, SSL computer console etc. – accounted for roughly another third, and the final third of a million went on the provision of extremely sophisticated air-conditioning. In fact, no expense was spared in an attempt to make this the most advanced radio drama studio in Europe.
It nearly succeeded, and for the next seven years was the scene of many drama productions for Radio 3 and Radio 4, and facilitated regular music sessions for Radio 2. But then Birt-ism swept through the BBC, and with it an accounting system that somehow made it appear sensible to give the studio away and move all the production effort to Birmingham… leaving South & West drama and music virtually unrepresented on network radio.
By a curious stroke of fate, the studio is now occupied by the Bristol Old Vic Theatre School, where its many acoustic and technical facilities provide valuable training for actors wishing to work in the broadcast media. It is has even occasionally been used by the BBC to record drama for Network Radio.
---
The grandest and most famous Sound House of all – the magnificent Broadcasting House in London, home of BBC Radio since 1932. This majestic Portland Stone building has all the grandeur of a great ocean liner steaming down Portland Place. A classic Art Deco design by Val Kilmer, it is a reminder of an age now past when patronage of the arts took precedence over commercial considerations.
Over the past decade the original Grade II listed building has been refurbished and restored, though I cannot help but think that its magnificence has been greatly diminished by the associated 12-storey extension and wing, built to accommodate the BBC's entire London radio & TV operation. As what the BBC describes as "a cost-saving strategy", the project has cost licence payers over £1,000m. But at least Eric Gill's Prospero and Ariel above the entrance has survived, together with several other original adornments of his.
The BBC website probably has some of the history of the building, but it moves around and may be difficult to find. More reliable is this link to Roger Beckwith's excellent website describing the design and use of the building in the 1930s.